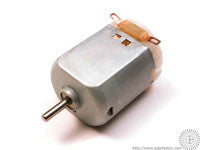 Motor: Gear Motor Performance Upgrade
A high power motor that fits in the same form factor as used by the GM2/GM3/GM8/GM9 style gear motors. When retrofitted (an easy process after removing the GM2/3/8/9 motor strap), it nearly triples the output speed and doubles the torque!
Be forewarned - the increase in power output comes with an suitable increase in power consumption! When used in a GM2/3/8/9, the power output is considerably higher.
The motor has an 0.08" (2mm) output shaft. The main can body dimensions are 0.6" x 0.8" x 1" (15mm x 20mm x 25mm). The length including the front and rear alignment pads is 1.15" (29mm) and the overall length including the output shaft is 1.5" (38mm).
| | |
| --- | --- |
| Brand: | Tinkering Supplies |
| Brand Part Number: | 1205 |
| Our Part Number: | h1205 |
---
We Also Recommend