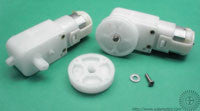 Gear Motor 3: Right Angle Shaft
This is is essentially the same as Gear Motor 2 but with a 90 degree output shaft.
This motor offers 50 in*oz of torque, rotating 360 degrees every 1.6 seconds (38 rpm - just a hair slower than a servo), at 5V, drawing 600mA at stall (free running at 52mA).
With a 7mm double-flat output shaft (avoid using the "D" output - it's not meant to take rotational load), and a built-in clutch (limiting at 60 in*oz, but easily "locked"), and built-in mounting screw holes, you can see why we like these motors!
Overall dimensions are 65mm (2.56") long x 22mm (0.867") x 18.5mm (0.73").
The motor does
not
include
30mm Plastic Wheel for GM Axle
shown in the photo.
| | |
| --- | --- |
| Brand: | Tinkering Supplies |
| Brand Part Number: | 1209 |
| Our Part Number: | h1209 |
Accessories
---
We Also Recommend