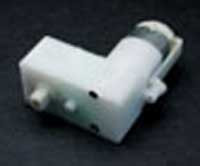 Gear Motor 8: Offset Shaft
This 143:1 gearmotor is much like the GM3 gearmotor but runs at nearly twice the speed. This motor goes 70RPM at 5V, drawing 670mA at stall while providng 43 in-oz torque. Free running current is 57.6mA at 5 volts.
With a 7mm double-flat output shaft (avoid using the green double flat output - it's not meant to take rotational load), and a built-in clutch and built-in mounting screw holes, you can see why we like these motors!
These units have an overall size of 55mm (2.17") x 48mm (1.89") x 23mm (0.906") thick.
| | |
| --- | --- |
| Brand: | Tinkering Supplies |
| Brand Part Number: | 1413 |
| Our Part Number: | h1413 |
Accessories
---
We Also Recommend