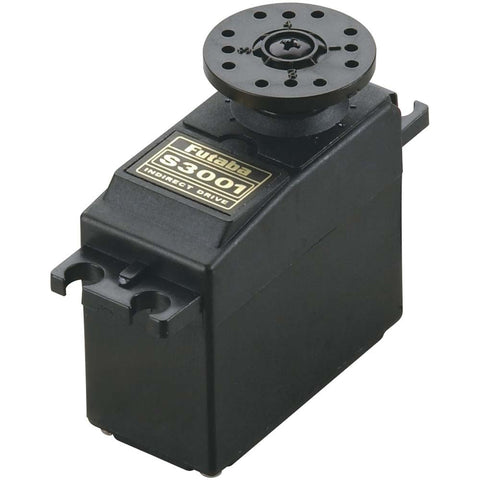 S3001 Servo Standard
This is a Standard Servo with a Ball Bearing on the output shaft. This has a "J" connector and uses a nylon gears.
This servo can produce high-current draw from your batteries. If using NiMH or LiPo batteries, make sure they are capable of delivering sufficient amps.
Features:
Single Top Ball Bearing
Same mounting as S148 and S9201 (individual rectangular grommets)
3-pole motor
Nylon gears
Includes:
One S3001 Standard Servo
One accessory package
Specs:
Dimensions: 1.6 x 0.8 x 1.4" (1-9/16 x 13/16 x 1-7/16")
(40 x 20 x 36mm)
Weight: 1.6oz (1-9/16oz) (44g)
Torque: 33 oz-in (2.4kg-cm) @ 4.8V
42 oz-in (3.0kg-cm) @ 6V
Transit: 0.28 sec/60 degree @ 4.8V
0.22 sec/60 degree @ 6V
| | |
| --- | --- |
| Brand: | Futaba |
| Brand Part Number: | S3001 |
| Our Part Number: | h3370 |