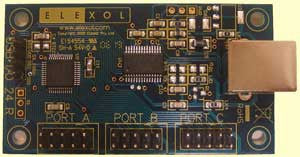 USB Interface Board with 24 Channels
The USBIO24 R is the ROHS Compliant version of our previous USB I/O 24 range. The USB I/O 24 R is a low-cost integrated module for the input and/or output of digital signals from a computer system by connection to the USB port. The modules I/O Port pin out and firmware are compatible with the previous versions of the USB I/O24 modules.
This module is also available in a DIP form factor:
USB Interface Board with 24 Channels (DIP)
The module features 24 5V level signal lines individually programmable as input or output. As the module connects to the USB port, multiple modules can be connected to a single PC by the use of a USB hub or hubs. Each module features a serial number and the PC can identify each module uniquely allowing for multiple modules to be connected for a single application. The outputs of the module are able to source or sink up to 30mA per I/O, up to a maximum 50mA per port, to allow for direct connection to a variety of devices.
Features:
24 independently programmable Input / Output Pins Grouped into 3 ports.
Single module High-Speed Digital Input / Output solution.
Integrated Type-B USB Connector.
On-board unique serial number and custom programmable FLASH microcontroller.
Both USB Enumeration information and Microcontroller can be re-programmed to suit customer needs.
Module powered by the USB from the PC or by an external power supply.
Virtual COM Port driver allows access as a regular serial port.
Optional DLL based driver available.
Easy to program using popular development languages C, Basic, Delphi, VB, etc.
Simple command set for easy control of ports and data transfer.
| | |
| --- | --- |
| Brand: | Elexol Pty Ltd |
| Brand Part Number: | USBIO24-R |
| Our Part Number: | h3387 |
Accessories
---
We Also Recommend