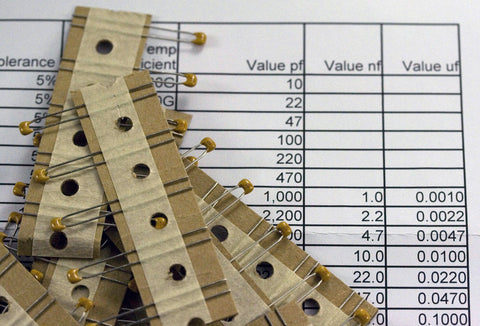 Ceramic Capacitor Starter Set
This kit is a starter assortment of high quality ceramic capacitors in 14 common values. All capacitors have long leads for convenient use on solderless breadboards or on perfboard. The package contains 5 each of the following values: 10pF, 22pF, 47pF, 100pF, 220pF, 470pF, 1nF, 2.2nF, 4.7nF, 10nf (.01uF), 22nF, 47nF, 100nF (.1uF) and 220nF.
The kit includes an instruction sheet detailing the kit contents including standard value markings and equivalent values in picofarad, nanofarad and microfarad units. All capacitors are rated 50V.
| | |
| --- | --- |
| Brand: | Tinkering Supplies |
| Brand Part Number: | CCBAST-50-70 |
| Our Part Number: | h4444 |
---
We Also Recommend