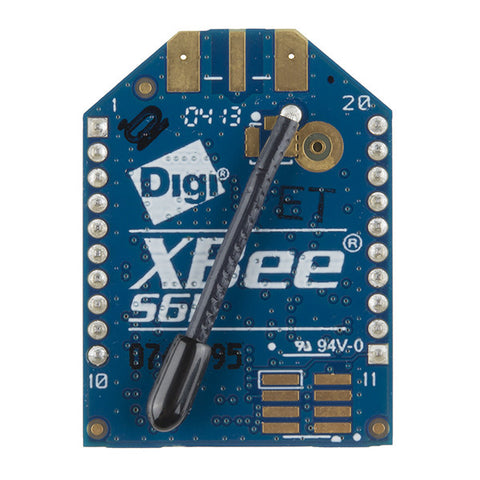 XBee WiFi Module - Wire Antenna
This is the XBee WiFi Module with wire antenna from Digi. XBee WiFi embedded RF modules provide simple serial to IEEE 802.11 connectivity. By bridging the low-power/low-cost requirements of wireless device networking with the proven infrastructure of 802.11, the XBee WiFi creates new wireless opportunities for energy management, process and factory automation, wireless sensor networks, intelligent asset management and more. Focused on the rigorous requirements of these wireless device networks, the module gives developers IP-to-device and device-to-cloud capability.
XBee modules offer developers tremendous flexibility and are available in surface mount and through-hole form factors. The XBee WiFi shares a common footprint with other XBee modules. This allows different XBee technologies to be drop-in replacements for each other.
As a member of the XBee family, the XBee WiFi combines hardware with software for a complete modular solution. XBee WiFi modules are designed to communicate with access points in existing 802.11 infrastructures. Developers can use AT and API commands for advanced configuration options.
Note: If you are using these outside of the United States, please check with your local laws regarding radio communication.
Features:
3.3V @ 309mA
72Mbps Max data rate
Antenna Type: Integrated Wire
Fully FCC certified
4 12-bit ADC input pins
10 digital IO pins
13 Channels
AT or API command set
Documents:
| | |
| --- | --- |
| Brand: | Sparkfun |
| Brand Part Number: | WRL-12571 |
| Our Part Number: | h5870 |
Accessories
---
We Also Recommend