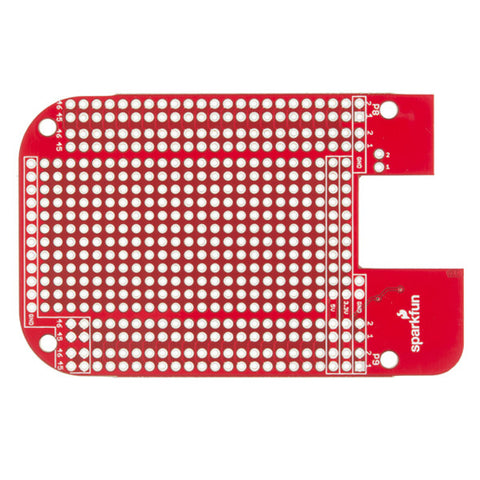 SparkFun BeagleBone Black Proto Cape
We all know the BeagleBone Black is pretty great, but wouldn't it be nice to create personal capes based on your needs? The SparkFun BeagleBone Black Proto Cape is a great way to prototype or design custom capes and provides you access to all gpio pins available on the BeagleBone Black. The Proto Cape easily mates with a BeagleBone Black and gives you a large prototyping area, two red LEDs for user applications or debugging, and access to a blank EEPROM that is great for storing pin configuration data.
Each BeagleBone Black Proto Cape offers plenty of space to prototype with .1" spaced through holes. There are two power buses provided along with ground connections on both sides of the board. With this cape you should have no trouble designing and creating whatever kind of add-on you would like to be attached to your BeagleBone Black.
Note: This cape does NOT include headers, we want to give you the option of choosing between which style fits your needs. 2x23 Pin Headers can be found in the Related Items section below.
Features:
Large Prototyping Area
2 General Use LEDs
5V, 3.3V, & GND Pins Exposed on Both Sides of the Cape
EEPROM Left Blank
Documents:
| | |
| --- | --- |
| Brand: | Sparkfun |
| Brand Part Number: | DEV-12774 |
| Our Part Number: | h5892 |
Accessories