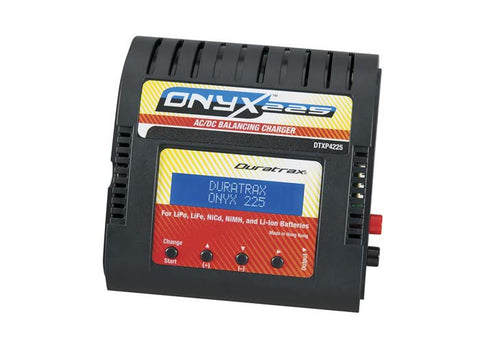 Onyx 225 AC/DC Advanced Charger w/LCD
This is the AC/DC Powered Duratrax Onyx 225 AC/DC Balancing Charger with LCD.
**Additional Technical Info Will Be Added When It Becomes Available.**
Features:
Charges and balances 1-6 cell LiPo/ LiFe batteries
Charges 1-15 cell NiMH/NiCd batteries
Adapters with Standard, Traxxas and New Star plugs
Peak charging, adjustable peak sensitivity and trickle charging for NiMH/NiCd cells
5mV per cell balancing accuracy
Stores up to ten charging routines with numerous programmable functions
LCD screen
60W AC power supply
Push button setup with video and audio cues
Five year limited warranty beginning at date of purchase. Valid in the USA and Canada only.
Includes:
Duratrax Onyx 225 AC/DC Balancing Charger
4mm Banana to Star Plug Adapter
4mm Banana to Traxxas Adapter
AC Input Cord
DC Input Cord
ElectriFly Balance Board with Adapter
Specs:
Ac Input: 110V AC 60Hz
Dc Input: 11-15V DC
Output Power: AC 60W, DC 60W
Battery Types: NiCd/NiMH 1-15 cells, LiPo/LiFe 1-6 cells
Fast Charge Current: 0.1-6.0A Linear
Fast Charge Termination: Peak detection for NiCd/NiMH,
CC/Cv for lithium types
Fast Charge Safety Timer: 0 - 300 minutes
Nicd/Nimh Peak Sensitivity: 3 - 20mV adjustable
Nicd/Nimh Trickle Charge Current: Auto (1/20 fast charge setting)
or manual adjust (0-250mA)
Lithium Balancing Accuracy: 5mV per cell
Lithium Balancing Socket: JST EH
Lithium Max. Node Current: 300mA
Displayed Info: Input and output voltages, peak voltage, charge
current, charge capacity and time, individual cell balancing
voltages
Input Connections: Detachable AC lead with plug, jack for DC
Output Connections: 4mm female banana jacks
Balancing Accuracy: 5mV per cell
Protective Devices: Solid state reverse polarity and current
overload
Cooling System: Fan
Dimensions: 6.3 x 5.3 x 1.7" (160 x 134 x 43mm)
Weight: 11.1oz (314g without cords connected)
Conformity Requirements: CE, RoHS
| | |
| --- | --- |
| Brand: | Duratrax |
| Brand Part Number: | DTXP4225 |
| Our Part Number: | h7174 |
---
We Also Recommend