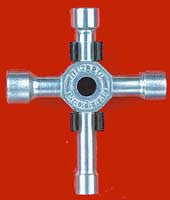 4-Way Socket Wrench (QTY/PKG: 1 )
This is a 4-way wrench that is handy to have in any field box. It has four of the most popular sizes used in modeling: 5/16", 3/8", 7/16", and 1/2" and will also fit 8,10,11,12mm sizes.
Features:
Built-in glow plug storage for three glow plugs.
Wrench storage klip for mounting on field box or workbench.
Includes:
(1) 4-way socket wrench
(1) Storage klip
(2) Storage klip mounting screws
Specs:
-socket depth 3/8"
-Socket Sizes: 5/16", 3/8", 7/16", 1/2", 8mm, 10mm, 11mm, 12mm
-storage klip 1 3/4"length, 5/8"width, 3/4"height
| | |
| --- | --- |
| Brand: | Du-Bro Products, Inc. |
| Brand Part Number: | 701 |
| Our Part Number: | h7206 |