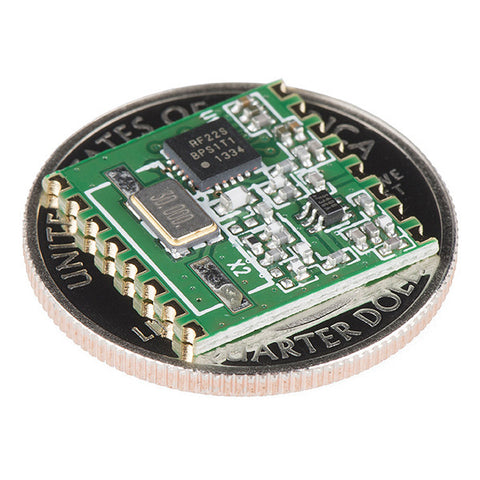 RFM22B-S2 SMD Wireless Transceiver - 915MHz
The RFM22B is a low-cost ISM FSK transceiver module which offers communication at 915MHz ISM and adjustable output power of up to +20 dBm. The wide operating voltage range of 1.8–3.6 V and low current consumption makes the RFM22B an ideal solution for battery powered applications.
Communication with the RFM22B is achieved via a standard 4-wire SPI interface. Three configurable general purpose I/Os are also available, the use of which can be tailored towards the needs of your project. A host of other features are also available including an 8-bit ADC, temperature sensor, RX and TX FIFOs, and low-battery detection. See the datasheet below for a complete description of every register and command.
The module comes in a 16-pin, 16 x 16mm, SMD package, with pins spaced by 2mm.
Note: These modules are 915MHz and Rev3.0.
Features:
Frequency Range: 915MHz ISM
Sensitivity = -121 dBm
Output power range: +20 dBm Max
Data Rate = 0.123 to 256 kbps
FSK, GFSK, and OOK modulation
Power Supply = 1.8 to 3.6 V
Ultra low power shutdown mode
Digital RSSI
Wake-up timer
Auto-frequency calibration (AFC)
Power-on-reset (POR)
Antenna diversity and TR switch control
Configurable packet handler
Preamble detector
TX and RX 64 byte FIFOs
Low battery detector
Temperature sensor and 8-bit ADC
–40 to +85 °C temperature range
Integrated voltage regulators
Frequency hopping capability
On-chip crystal tuning
Dimensions: 16 x 16mm (0.63 x 0.63 in)
Documents:
| | |
| --- | --- |
| Brand: | Sparkfun |
| Brand Part Number: | WRL-12030 |
| Our Part Number: | h7573 |
Accessories