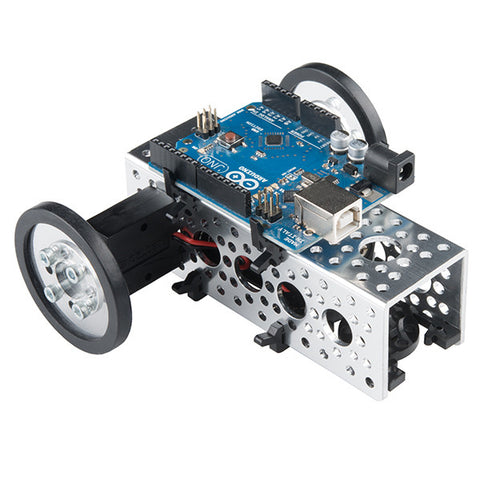 Actobotics Kit - ActoBitty 2
This is the ActoBitty 2 from Actobotics, an easy to assemble starter robotics kit that is perfect for beginning builder. This little kit, once assembled creates a small robotic platform that, with an attached an Arduino, you can start using almost immediately! Inside this kit you will find all the mechanical parts and motors needed to build this little robot platform.
The aluminum chassis included in this kit accepts all Actobotics components for quick and easy customization while the innovative "snap on" Arduino channel mounts make it easy to attach an Arduino Uno or Arduino Mega board without hassle! In the Recommended Products section below you will also find a Raspberry Pi channel mount in case you choose to drive this platform without an Arduino. In this kit you will also find two 2" diameter drive wheels with rubber lips and aluminum hubs that when combined offer fantastic traction, stability, and strength. A custom Acetal mount plate, that attaches to the underside of the ActoBitty 2 provides a perfect attachment surface for a variety of sensors including line followers, accellerometers, or any other sensor you might want to incorporate. The ActoBitty is perfect for both educational settings and individual hobbyists!
Actobotics is a robotics building system based around extruded aluminum channels, gears, precision shafts, and ball bearings. Thanks to the two standardized hole patterns, nearly all Actobotics components can be intuitively connected together. The wide range of components makes building complex electromechanical prototypes or finished projects a reality.
Note: A few required items that are not included in this kit that will be required to make the ActoBitty 2 fully operational, including: four AA Batteries, a Phillips Head Screwdriver, a Arduino Uno or Arduino Mega, and a motor driver.
Includes:
2x Micro Gearmotor - 90 RPM
2x Micro Gearmotor - Enclosure
2x Precision Disc Wheel - 2" (Clear)
2x Rubber Ring - 1.65"ID x 1/8"W
12x Machine Screw - Socket Head (6-32 ; 3/16")
2x Acetal Battery Mount
1x Acetal Castor/Sensor Mount
1x Acetal Castor
1x 4 Cell AA Battery Pack
2x Phillips head Screw - 2-32 x 3/16"
1x 1/16" Hex Key
1x 7/64" Hex Key
Documents:
| | |
| --- | --- |
| Brand: | Actobotics |
| Brand Part Number: | 637146 |
| Our Part Number: | h5937 |
Accessories
---
We Also Recommend