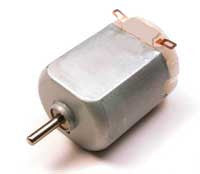 Mabuchi FA-130 Motor
Flat housing, metal brush motor. Operating voltage 1.5VDC to 3VDC. At 1.5VDC no load output is 9100RPM at 200mA, stall torque is 26g-cm (0.36oz-in) at 2.2A and maximum efficiency output is 6990RPM delivering 6g-cm (0.08oz-in) torque while drawing 660mA current.
The motor has a 2mm (0.078") diameter shaft that extends 7.3mm (0.29") beyond the front bearing.
The metal can dimensions are 15mm (0.59") over the flats and 20mm (0.79") over the curve. The length is 25mm (0.99") measured from the flat front of the can to the flat part of rear plastic cap. The body length is 29.1mm (1.15") measured to the bearing / alignment surfaces. The overall length is 38mm (1.5") measured tip-to-tip of the drive shaft.
| | |
| --- | --- |
| Brand: | Tinkering Supplies |
| Brand Part Number: | FA-130 |
| Our Part Number: | h2242 |
Accessories
---
We Also Recommend