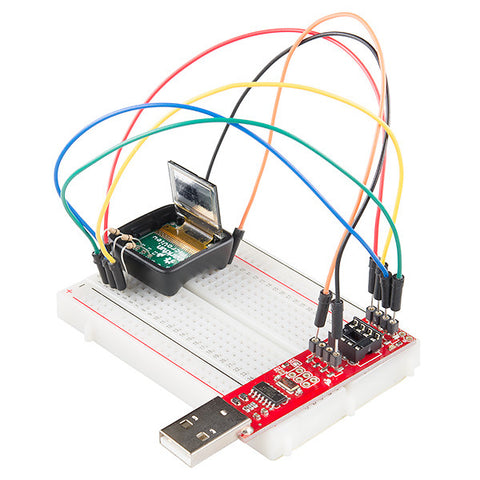 SparkFun MicroView Bootloading Kit
MicroView, essentially an Arduino with a built-in display, is a tiny, enclosed piece of technology used to create a large assortment of electronics and programming projects. We understand that a lot of you really want to make the MicroView your own and get inside and reprogram it. We also, however, understand that that is not such an easy feat, luckily that's where the MicroView Bootloading Kit comes in. This is an all-in-one kit that includes everything you will need to easily open and add, change, or remove a bootloader to/from your MicroView.
Each MicroView Bootloading Kit includes four basic parts to add a bootloader to your little OLED Arduino in the easiest way possible: SparkFun's own Tiny AVR Programmer to upload an ArduinoISP sketch or RedBoard drivers with the added benefit of not requiring a USB cable because it works with the MicroView's included cable, a Hobby Knife to open the enclosure with the lowest potential of leaving scratches, a 30-pack of jumper wires for connecting the MicroView to the programmer if needed (you'll only need 6), and three 0 Ohm resistors in case you are lacking soldering tools and need to connect the MicroView to a breadboard. With these items combined you should experience no issues accessing and customizing your very own MicroView!
Note: In the Documents section below you will find a step-by-step guide on how to open up and load a bootloader on your MicroView. It's a good read, check it out!
Includes:
1x Tiny AVR Programmer
1x Hobby Knife
3x Resistor - 0 Ohm 1/6W
Documents:
| | |
| --- | --- |
| Brand: | Sparkfun |
| Brand Part Number: | KIT-13088 |
| Our Part Number: | h5948 |
Accessories