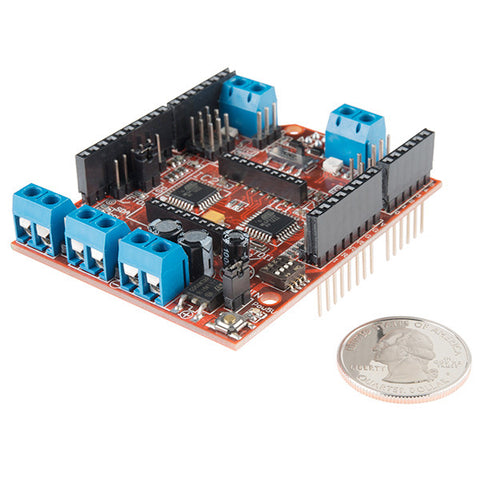 ComMotion Motor Driver Shield
This is the ComMotion Motor Driver Shield, a 4 channel motor controller that can communicate via I2C and be wirelessly controlled. This shield allows you to be able to control up to 4 motors at a time, read their encoders, and monitor their current draw all from one board. This powerful little shield fits snuggly on top of your RedBoard, Arduino, or any other development board that utilizes the R3 layout.
The ComMotion shield has been designed to drive 4 DC brushed motors at up to 2.5A continuous, each with peak currents of up to 4A per motor. With the preset configurations you will be able to easily control robots with omni or mecanum wheels by simply sending the ComMotion only three simple values: Velocity, Angle and Rotation. Onboard, the two ATmega328P processors will then do all the math required to calculate the correct speed for each individual motor.
Each ATmega328P processor even has its own serial port broken out into an FTDI header. These serial ports can be used for GPS, Bluetooth and LCD modules while leaving your Arduino serial port free for uploading and debugging code. The serial port on MCU2 is also broken out into a socket for an XBEE or WiFly wireless transceiver with voltage translation circuitry. While in the default configuration, the ComMotion shield will be able to accept serial commands directly from the serial port on MCU2. Just plug in a pre-configured Xbee, WiFly or Bluetooth module and you have instant wireless control!
Note: The supplier's supporting documentation was taken down by it's host site. Due to this vanishing support SparkFun is unable to offer technical assistance for this product at this time. We have drastically reduced the price of this shield as it is an at-your-own-risk motor driver. All sales are final and we will not be able to accept returns on this product if purchased after 11/23/2015.
Features:
Two ATmega328P (16MHz) Processors
Supply Voltage: 6V â 16V
Logic Voltage: 5V @ 1000mA
Wireless Support: Xbee / WiFly socket with voltage translation
Xbee/WiFly Power: 3.3V @ 300mA
Analog Inputs: 5x 10bit
Motor Drivers: 4x FETâHâ bridge
Motor Current Continuous: 2.5A (each motor)
Motor Current Stall: 4A (each motor)
Current Monitor Range: 0A â 5A (each motor)
Current Monitor Resolution: ~5mA (each motor)
I²C Bus Voltage: 5V or 3.3V (selected by IO_REF pin)
I²C Bus Speed: 100kbs
I²C Addresses: 16 selectable pairs (software configurable)
Serial Ports: 2x 5V TTL logic (FTDI headers)
Documents:
| | |
| --- | --- |
| Brand: | Sparkfun |
| Brand Part Number: | ROB-13257 |
| Our Part Number: | h5991 |
---
We Also Recommend