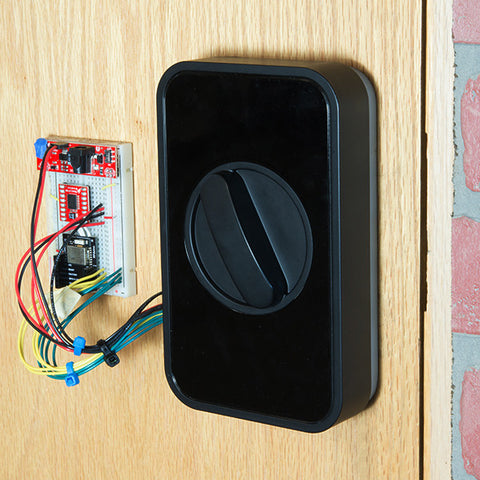 Lockitron Mechanical Assembly
The Lockitron is an innovative home security device from Apigy that allows you to lock and unlock the deadbolt on your front door from your smart phone. This specific part is the mechanical assembly that makes up the majority of the device without the electronic guts inside. This means that you get to decide and add your own unique wireless and motor control options! With a few turns of a screwdriver, the Lockitron easily fits over the deadbolt lock on the inside of your door.
The Lockitron Mechanical Assembly includes the mechanisms to physically turn a lock, the motor, the housing, and the means to secure it all to your deadbolt. As stated before, you will need to supply your own electronics as well as four AA sized batteries for the assembly and electronic components to operate.
Note: Be aware that the Lockitron may not fit all doors. Please consult the Door Compatibility link in the Documents section below for a handy cut out "fitting" example to make sure your door is compatible with the Lockitron.
Note: We've included the installation links in the Documents section below to show you how to physically install your Lockitron. There are also instructions on how to hook up your smart phone but those may not (and more than likely won't) apply as this product is only the mechanical assembly.
Documents:
| | |
| --- | --- |
| Brand: | Sparkfun |
| Brand Part Number: | COM-13648 |
| Our Part Number: | h6025 |
Accessories
---
We Also Recommend