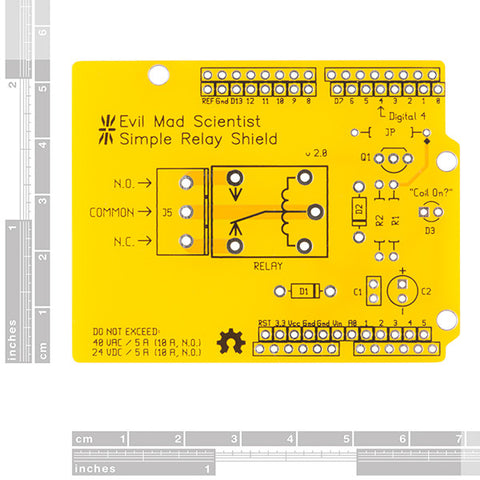 Relay Shield v2.0
This Relay Shield v2.0 from Evil Mad Scientist is a simple Arduino add-on that gives your Arduino the ability to control a single electromechanical relay for switching loads of up to 24VDC or 40VAC. Each Relay Shield comes equipped with a single pole - double throw (SPDT) sealed relay which can handle a current load of up to 5A. This means that when current is applied to the coil it throws a simple changeover switch, terminating the connection from the NC (Normally Closed) contact to ground and closing the NO (Normally Open) contact. Use them to switch high voltage/high current devices. As this is a shield, it is powered straight from the 5V power supplied by your Arduino, simply slide it into your Arduino or shield-compatible board (like the RedBoard) and you will be good to go!
The relay shield is controlled through pin Digital 4 on your Arduino via a transistor labeled "Q1". When output Digital 4 on your Arduino is low, the relay shield will connect the NC pin to the "Common" pin of the screw terminal. When output Digital 4 goes high, the "Coil On?" LED will light up and the relay shield will instead connect the NO pin to the "Common" pin of the screw terminal. Version 2.0 of this shield adds the ability to control the mechanical relay from a pin other than D4.
The Relay Shield is sold as an easy-to-assemble kit and includes everything listed below with clear assembly instructions listed in the documents section.
Includes:
1x Relay Shield PCB
1x GSLA SPDT 5A Relay
1x Red LED, 3mm
1x 100uF 10V Capacitor
1x 0.1uF 25V Capacitor
1x 2N4401 Transistor
1x Screw Terminal, 3-pos
1x Arduino Header Set
2x 1000 ohm 1/4W Resistor
2x 1N5817 Diode
Documents:
| | |
| --- | --- |
| Brand: | Sparkfun |
| Brand Part Number: | DEV-13769 |
| Our Part Number: | h6047 |
Accessories
---
We Also Recommend