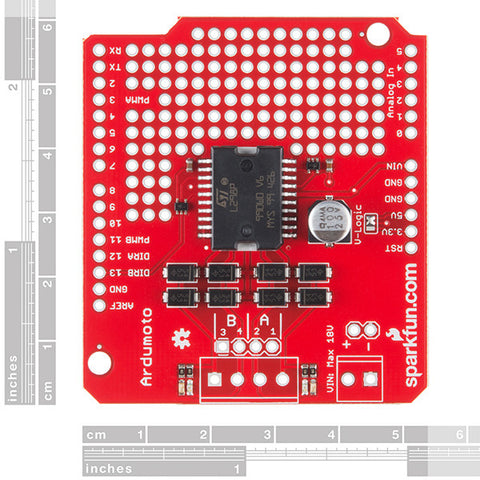 SparkFun Ardumoto Shield Kit
Robots are fun and Arduinos are easy, so wouldn't it be nice if there were a kit that included everything you need to get your Arduino device set up to control a simple two motor circuit buddy? The SparkFun Ardumoto Shield Kit is perfect for any interested robot enthusiasts and includes an Ardumoto Shield as well pairs of tires, motors, connectors, and wires. And, of course, it's all stuffed in a classic SparkFun red box (which may come in handy as a robot chassis).
The Ardumoto Shield is an easy-to-use dual motor controller for Arduino. Combined with an Arduino, the Ardumoto makes a fantastic controller platform for RC vehicles or even small autonomous robots. At the heart of the Ardumoto – the big, black chip right in the middle – is an L298, one of our favorite dual-channel motor drivers around, capable of driving up to 2A per channel. The board takes its power from the same Vin line as the Arduino board, includes blue and yellow LEDs to indicate active direction, and all driver lines are diode protected from back EMF.
Control for motor attached to OUT1/2 is connected to digital line 12 (direction A) and digital line 3 (PWM A). Control for motor attached to OUT3/4 is connected to digital line 13 (direction B) and digital line 11 (PWM B).
Note: The motors included with this kit are not compatible with the Wheel Encoder Kit. Sorry for the inconvenience.
Kit Includes:
2x Wheel - 65mm (Rubber Tire)
3x Screw Terminals 3.5mm Pitch (2-Pin)
2x Black Wire - 5" Length (22AWG Solid Core)
2x Red Wire - 5" Length (22AWG Solid Core)
Documents:
| | |
| --- | --- |
| Brand: | Sparkfun |
| Brand Part Number: | KIT-13201 |
| Our Part Number: | h5981 |
Accessories
---
We Also Recommend