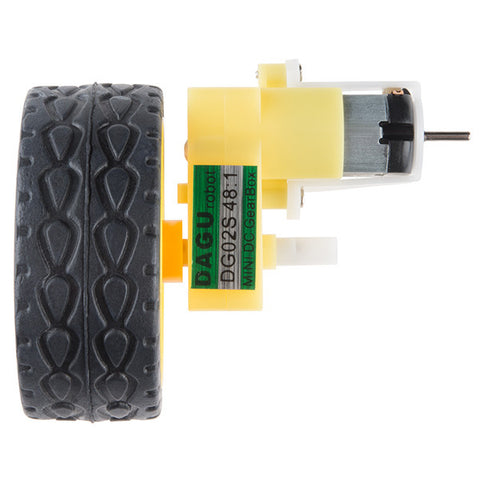 Hobby Motor and Encoder Kit
This is the Hobby Motor and Encoder Kit from DAGU, an inexpensive and reliable set of add-ons for your next robotic project. Inside this kit are three pairs of items: wheels, gearmotors, and wheel encoders (including everything you need to hook them up). The Hobby Motor and Encoder Kit is perfect for providing beginners with a cheap and easy to use setup or if you just need a few extra parts.
The off set gear motors included with this kit require a voltage of 3-6V with a no load current of 200mA and possess a stall current of 3A@6V (1.5A@3V), a gearbox ratio of 48:1, and a wheel speed of 65RPm at 3V unloaded. Each wheel encoder in this kit requires a supply voltage of 3-24V, a supply current of 4mA, consists of two neodymium 8-pole magnets with rubber hubs, and two hall-effect sensors terminated with 150mm cables and 3-pin female servo headers.
Includes:
2x DG02S Mini DC Gear Motor
2x Wheel - 65mm
1x Wheel Encoder Kit (Set of 2)
Features:
Gear Motor

Voltage: 3V – 6V
No Load Current: 200mA
Stall Current: 3A @ 6V (1.5A @ 3V)
Gearbox Ratio: 48:1
Wheel Speed: 65rpm @ 3V unloaded (Recommended)

Wheel Encoder

Voltage: 3V – 24V with reverse polarity protection
Encoder Type: 8-pole neodymium magnet and hall-effect sensor
Encoder Output: Open drain with short circuit protection
Documents:
| | |
| --- | --- |
| Brand: | Sparkfun |
| Brand Part Number: | ROB-13260 |
| Our Part Number: | h5993 |
Accessories
---
We Also Recommend