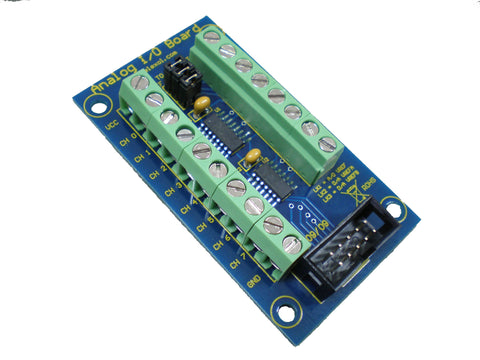 Analog-to-Digital (ADC) and Digital-to-Analog (DAC) I/O Board
The Analog I/O Board is an accessory board that allows the implementation of an analog interface to Elexols existing I/O 24 Range. The Elexol I/O 24 Range consists of Ether I/O 24 R, Ether I/O 24 DIP R, USB I/O 24 R and the USB I/O 24 DIP R
The board consists of an 8 channel 10 bit Analog to Digital Converter (MCP3008) and a 12 bit Digital to Analog Converter with 2 buffered outputs (MCP4922). Communication to the A/D and D/A Converters is via the SPI interface of the I/O 24 module which is implemented in the firmware. For further information on implementing the SPI interface please refer to the user manual for the I/O 24 module.
The 8 channels of the A/D, 2 channels outputs of the D/A, and all the VREF voltages are connected to screw terminals for easy access. These screw terminals will accept cables 0.5 2mm1. The connection between the I/O24 module and the Analog I/O board is via a 30 cm IDC connection cable. This cable is provided with the board.
The board has been designed to a 72mm standard width so that it can easily be mounted in DIN rail mounting modules.
| | |
| --- | --- |
| Brand: | Elexol Pty Ltd |
| Brand Part Number: | ADIO |
| Our Part Number: | h4608 |
---
We Also Recommend